Lake Zurich Craft Beer Festival
May 10, 2019

-

May 11, 2019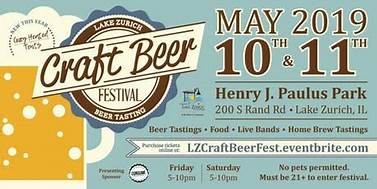 Barrel out to picturesque Henry J. Paulus Park on May 10th and 11th (5-10PM on either night) to enjoy the spring season with Lake Zurich's Craft Beer Festival to celebrate unique beer and those who brew it! New in 2019 we will have heated event tents for increased attendee comfort.
Just like last year, we will be sponsoring the Home Brew Cove section of the fest and will be awarding prizes for best of show homebrews.  Prizes will consist of a variety of items from BSG Handcraft as well as the Grand Prize winner will Brew their beer with Lake Zurich's own Roaring Table on our Blichmann Engineering Pilot System.
We will also be pouring a nice selection of beers, as well as some cider and wine. Come say hi and taste some awesome, home brewed beer from us as well as several other local home brewers.
Click Here to Buy Tickets or to learn more